In July 2018, we took a trip to Walt Disney World to celebrate Rachael's college graduation and our 46th anniversary. In this case, "we" includes Ellen, Rachael, and me along with Aaron and Gilly. We've been there many times, so I didn't take many photos, but I've included a few here.
When we arrived, Rachael got a Disney graduation cap (with ears) compliments of the hotel (left). When you go to the parks, you can request buttons if you're celebrating a special occasion. Of course Rachael got one because she's celebrating her college graduation. I got one too. On the left is a wedding couple in the Mexico exhibit at EPCOT. Ellen and I got buttons for our anniversary, which I added to the couple.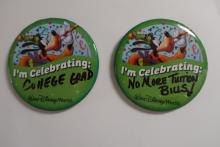 One of the highlights wasa a "backstage" tour of the elephant habitat at Animal Kingdom (arranged by Aaron). We went early when the elephants would be active and eating. The guides were great, providing a lot of info on the animals.

A new area in Animal Kingdom is Pandora — The Workd of Avatar. On the left is a creature in a small pond that occasionally squirts water at people nearby. (It's motion sensitive.) Next is a photo of illuminated owls that are part of a great light show on the water at night. The right two photos are Rachael, Aaron and Gilly riding the new Seven Dwarfs Mine Train in Magic Kingdom.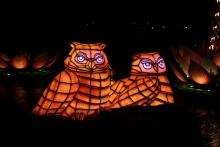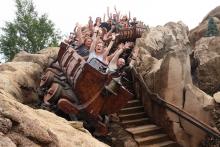 As mentioned, we've been there before. On the left is a similar pose from 2001 and 2018. On one of her first visits in 1999, Rachael was caught by surprise by the jumping fountains outside the Kodak exhibit at EPCOT. She won't be fooled again!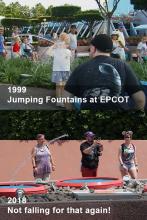 That's it for this trip. Until next time.