In September, 2019, I attended SEMICON Taiwan. Most of the trip was busy with SEMICON, but I did find a little time for sightseeing. Unfortunately, the weather wasn't ideal. Below are a few photos from the trip.
The main purpose of the trip was attending SEMICON Taiwan, a major semiconductor industry trade show. Our hotel was across the street from Taipei 101, a famous landmark which for years was the tallest building in the world. (It has since been surpassed.) I had hoped to visit the observation deck twice - once during the day, and once at night, but the weather was not condusive to good photos.

I did get a chance to visit the National Palace Museum, with a permanent collection of nearly 700,000 pieces of ancient Chinese imperial artifacts and artworks, making it one of the largest of its type in the world. Buddhist artwork was common, including a Buddhist trilogy from the Ming Dynasty (1368 - 1644) and Shakyamuni Buddha in gilt bronze, dated 477. Exploring the museum, my smartwatch said I got in over 15,000 steps and 71 flights of stairs. I think it may have been right.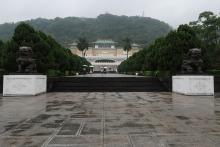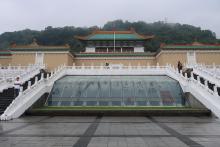 A sample of ancient Chinese living quarters in the museum. The detail on the wood and artwork is amazing.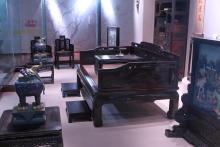 The artwork and detail on these items from centuries ago was amazing. Left to right:
A Cloisonne kettle from the Ming Dynasty, 1638 - 1644
An incense burner with pierced holes in underglazed blue from the Ming Dynasty, 1403 - 1424
A cocoon shaped black pottery jar from the western Han Dynasty, dated between 206 B.C.E and 8 C.E.
A Hou-lou food container, also from the Han Dynasty. Dated between 206 B.C.E and 220 C.E.
A Hu wine vessel from the late Western Zhou Dynasty, 9th century B.C.E. to 771 B.C.E.
Of course, jade items were also popular. Left to right:
For the mathematically oriented, a jade abacus!
A green jade flower holder in the shape of a fish creature, from the Qing Dynasty, 1736 - 1795.
Finally, the famous Jadeite Cabbage, the most popular piece in the museum. (19th century.)
After spending quite a bit of time in the museum, I visited the Chiang Kai-shek memorial. Chiang Kai-shek died at age 89, thus there are 89 steps leading up to the memorial. I arrived just in time to watch the changing of the guard.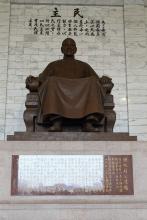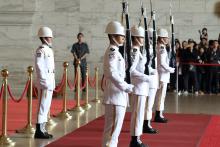 In the evening, we (colleagues also attending SEMICON) visited the famous night market, but I didn't take many photos. On the way, though, we did stop at the famous Grand Hotel, one of the world's tallest Chinese classical buildings.

Until next year.